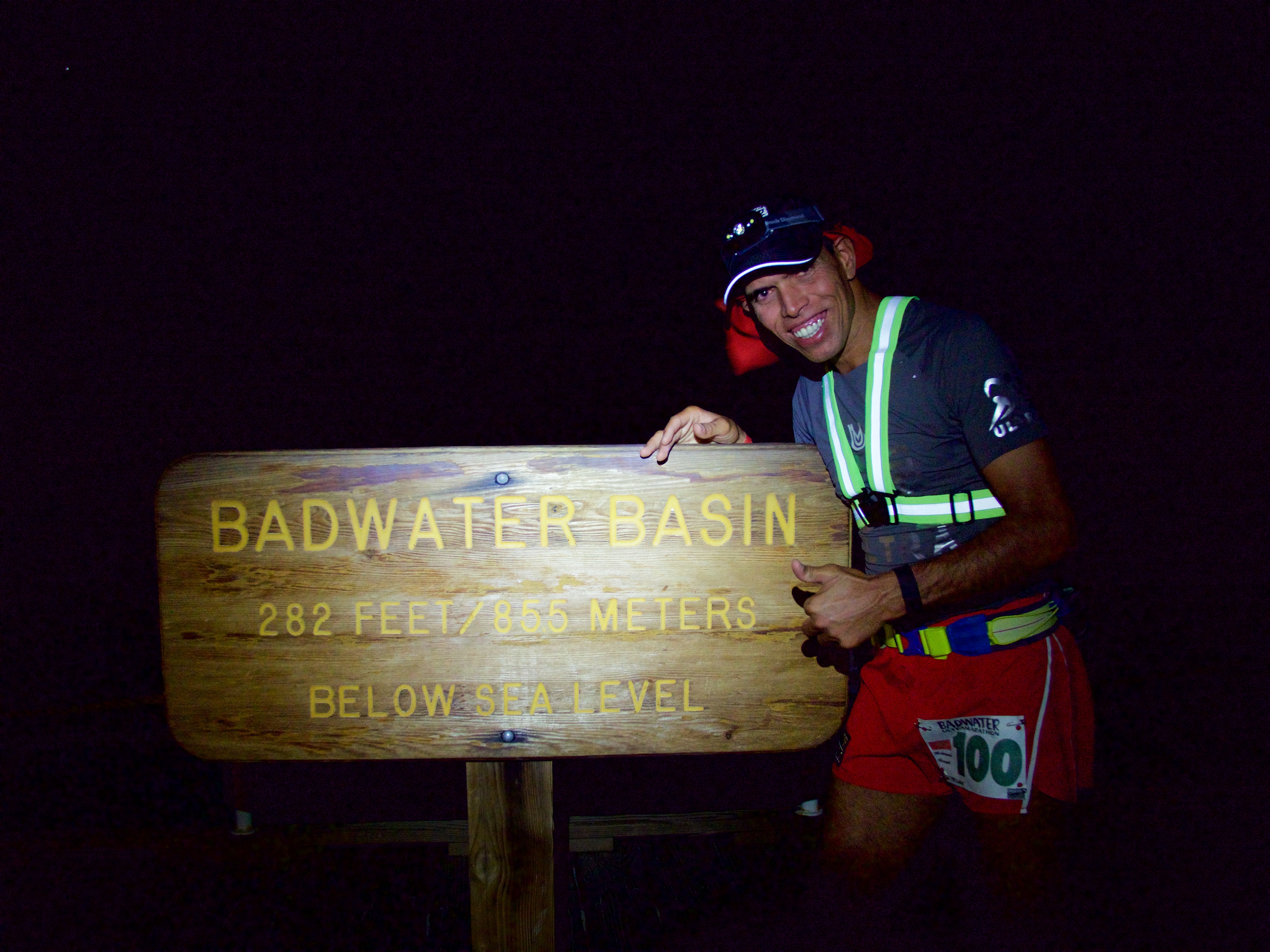 I stumbled off the airplane in Las Vegas and moved towards the exit. I sensed someone looming behind me and turned around to see Iron Cowboy James Lawrence, a giant of a man who actually is a bit shorter than me in real life. He had landed a few minutes earlier and had been watching for me so that he could take this opportunity to sneak up behind me and just creep really hard until I noticed him.  His efforts were successful.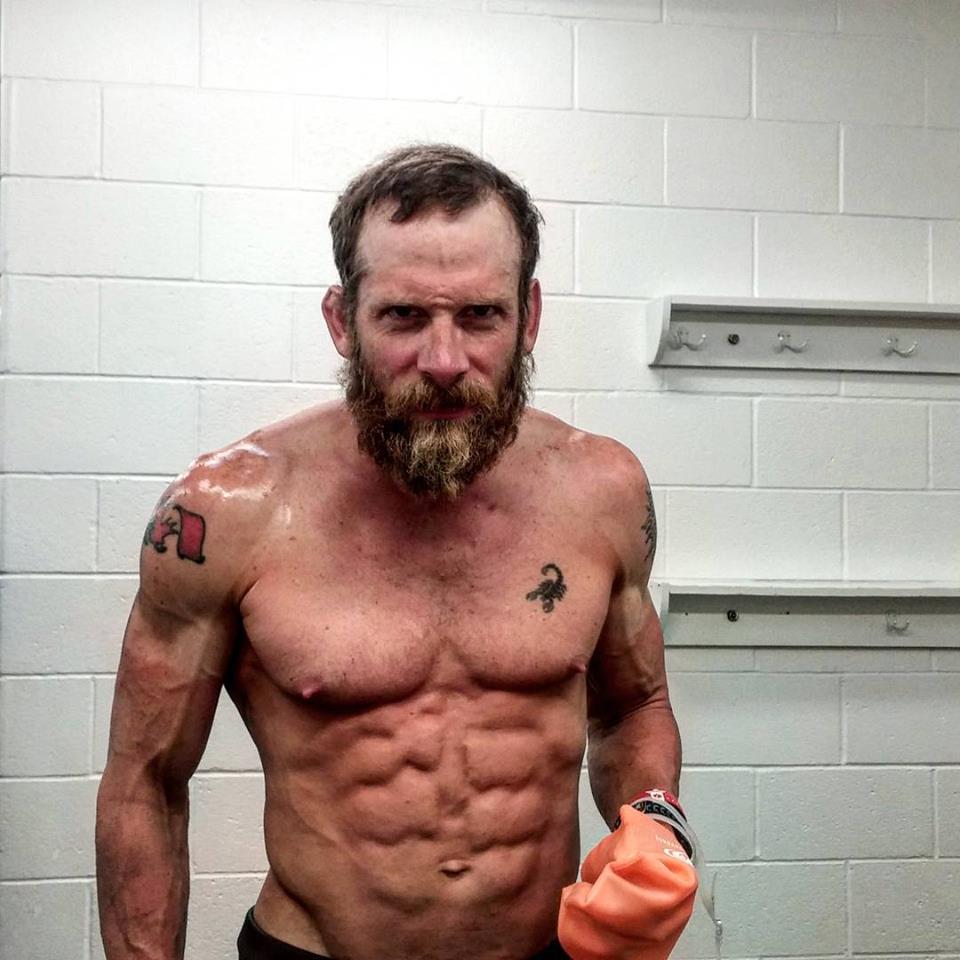 It had been almost a year since I had last seen him – in Utah, after spending the previous 3 weeks with him as he completed 50 Ironman distance Triathlons in 50 days, one in every state. In the final days of that campaign we talked about how his mission to become a powerful agent for positive change in the world was only now beginning. The 50/50/50 campaign had done nothing more than build his podium of influence – the real work lay ahead. Over the last year he has shown that he was up for the challenge as he has since worked tirelessly to affect positive change, inspiring, motivating, guiding, and teaching others to first see and then work towards their true potentials.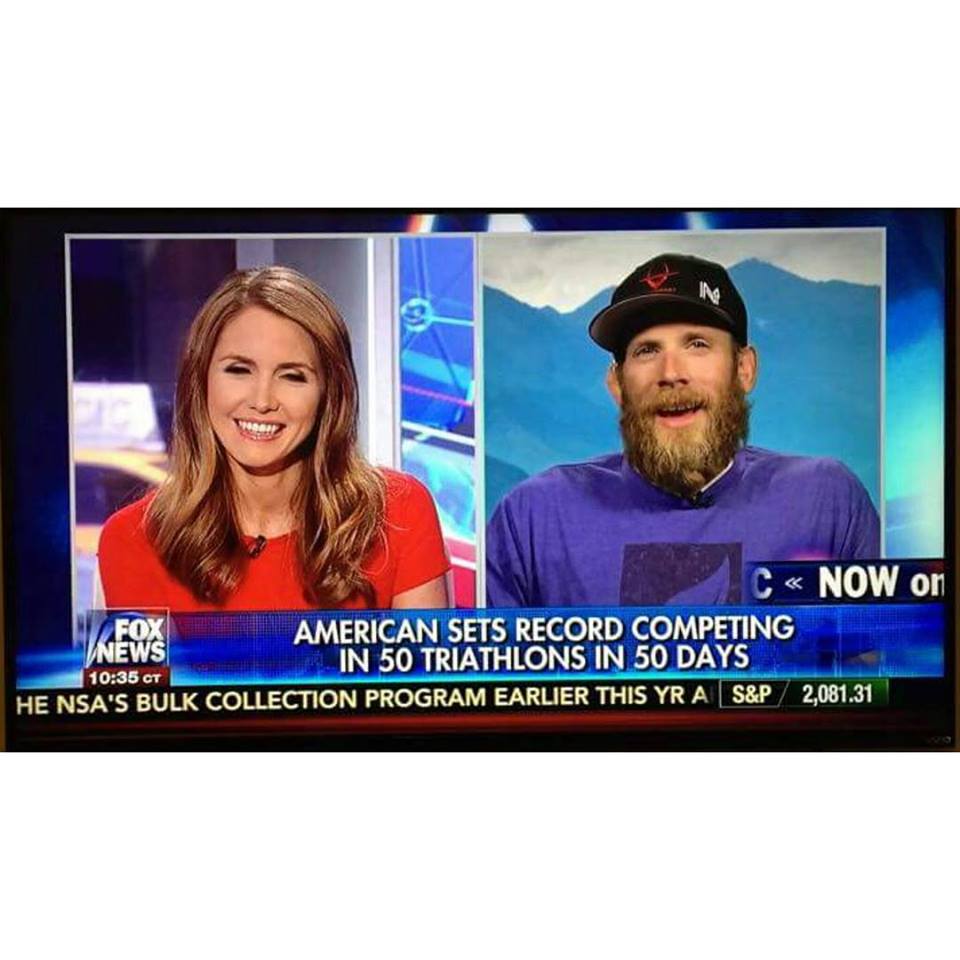 We hugged. "Cool Sunday clothes bro." I said, mocking his formal attire on the way to such a rugged event. "Shut up dude. I left straight from a motivational speech to the Airport. I didn't have time to change."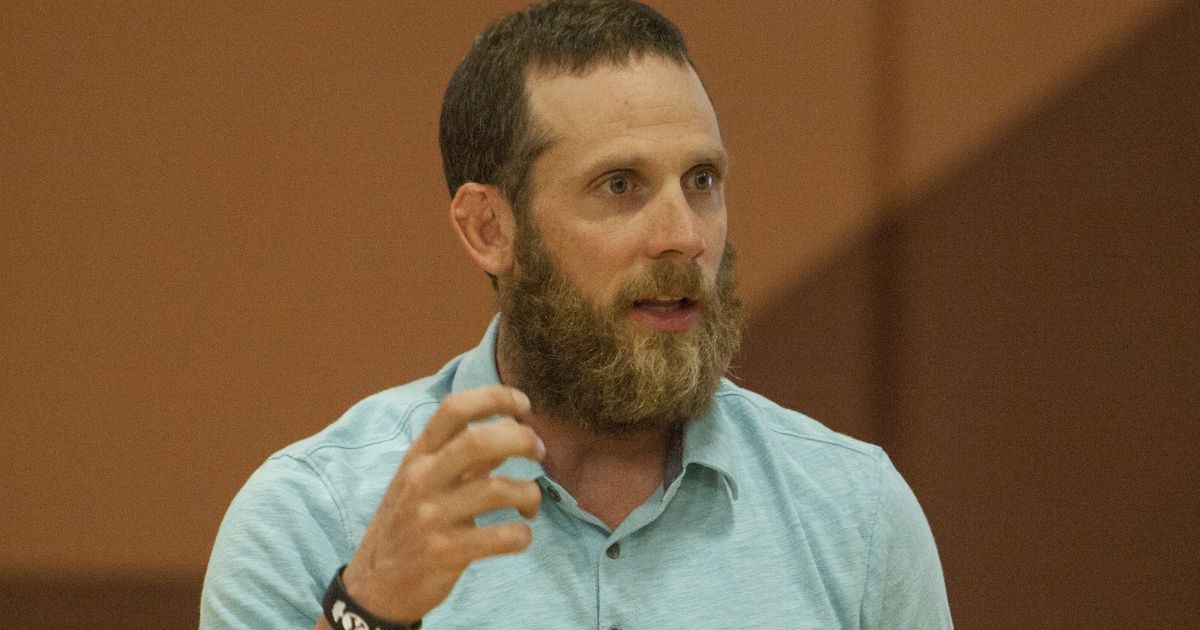 It was good to see him again – this time his eyes had life in them and his cheekbones protruded a little less than a year ago. Both of our flights had been delayed several hours, so we grabbed the rental car and raced towards Death Valley for the start of Badwater 135 – the hardest ultramarathon in the world. (I kinda feel like they all say that, but whatev…)  It was there that the rest of our unlikely team would be waiting for us: Linda Sanders, founder and director of "Hope So Bright", an organization who provides financial support to community nonprofit organizations providing programs and services to disadvantaged, under-served and at-risk youth. The Organization uses Endurance athletics as a platform to draw attention to the causes they champion. Italian Alessandro Beltrame was along for the trip as well – a world renowned videographer who would be documenting the adventure, and Mohammed Ahansal, the 5 time Marathon des Sables winner from Morocco and the man who James and I hoped to pace to Victory in his very first attempt at Badwater 135.
"I'm starving." James said as we weaved in and out of traffic, doing our best to make up the 3 hour deficit the delays had added. "Me too." I responded. "We should probably eat some food before this thing starts." We looked in vain for something that would work but eventually resigned to the fact that we had already passed all the options. There was no time to turn back, as we were already very late and we would absolutely miss the mandatory pre-race check-in of all racers and crew.
We pulled into the only option available – a Jack in the Box/Gas Station minimart.  "Welp… guess this is it." I instantly thought of Scott Jurek and Rich Roll, two veterans of the Ultra Endurance world, and two highly respected advocates of a fully plant based, or vegan diet. "What would Scott or Rich eat?" I asked myself, looking desperately for some high calorie plant based options. As we sped away I looked down at my choices and was glad neither of them were there to see the spread. Dinner would be 4 crispy cream donuts and a 7 pack of Jalapeno poppers, washed down with a liter of coke and a mango flavored Powerade. "At least it's vegan…almost." I thought to myself, wondering if the cheese in the Jalapeno poppers was actually cheese.
I glanced over and saw a sugar free Rockstar that James had put in his cup holder and a giant burger in his hand, the buttery one.  We both shrugged as we knew that given the circumstances, there wasn't a better alternative. "You can't win em all." I said, sensing the growing burn of Jalapeno all over my mouth and wondering what it would feel like to throw that up just a few hours later.
As we drove, the monochromatic landscape became more and more bleak. The only sign of life was road-killed snakes plastered and dried on the hot asphalt every few miles.  The long expanses of scorched earth and the hot craggy mountains that rose up resembled pictures sent back to earth from Mars expeditions. "What is this place?" I asked aloud as we descended lower and lower, the digital thermometer gradually creeping higher and higher. We tried our best to refresh our French speaking abilities, as we were unsure how much English Mohammed would speak. James has lived for years as a missionary in Paris. I had spent several years of my younger life attempting to master as many languages as possible with the intention of becoming a translator for the UN. That didn't happen though.
We pulled into the hotel. As we stepped out of the air conditioned car we were instantly hit by scorching hot wind. We exchanged embraces and well wishes with Mohamed, Alessandro, and Linda. We had never met before, but within a few short hours, we would all be family – united in a way that only occurs under the pressure of an intense struggle and a united effort for a common cause.
Just then a ghostly creature emerged from behind the hot rocks and moved effortlessly towards us. It took to a moment but I soon recognized it as the skinniest coyote I had ever seen, its legs, neck and body, long and slender; its hair short and its eyes sunken. The arid desert of Death Valley had caused this beast to become a completely different creature from its thick haired, bulky cousins that roamed the forests around my home in Flagstaff.  It was kinda like the way I looked when standing next to the grizzly Iron Cowboy James.
We drove towards the start at Badwater as the sun sank causing a glow to reflect off of the outline of the mountains and bathe the darkening sky with an orange hue. White bouncing lights and bright red flashers began to appear and lined the side of the road as we drove counter current to the already weary racers who had started in earlier waves. The sky had darkened further and the moon had already begun to rise as we arrived at check in and unloaded from the car. The temperature hovered near 100 degrees F and was only amplified by the howling wind that gusted off of the salt flats. It was definitely salt. To be sure, I conducted a highly reliable, on the spot, scientific experiment by picking up a piece of the dead valley floor and putting it in my mouth. "Yep. Definitely salt." The salty wind irritated the eyes and made one feel as though they were standing in front of a giant blow drier.
Mohamad calmly prepared himself, drinking small bits and checking his gear. He and the rest of our team walked down to the starting line as the 11:00 pm wave (The elite, and final wave) was called. There was a national anthem and extensive introductions that were carried out as the veterans did their best to stay cool and conserve as much energy as possible – a seemingly impossible feat, as even standing stationary in this heat seemed to zap one of their vital resources. It was fun to see racers and members of other crews recognize James as their eyes analyzed his bearded face, "I know who you are." On racer said, with a thick London accent. "You're that f#@*ing crazy bloke who did all those f#@*ing Ironmans." "Guilty." James nodded, a combination of flattery and embarrassment on his smiling face.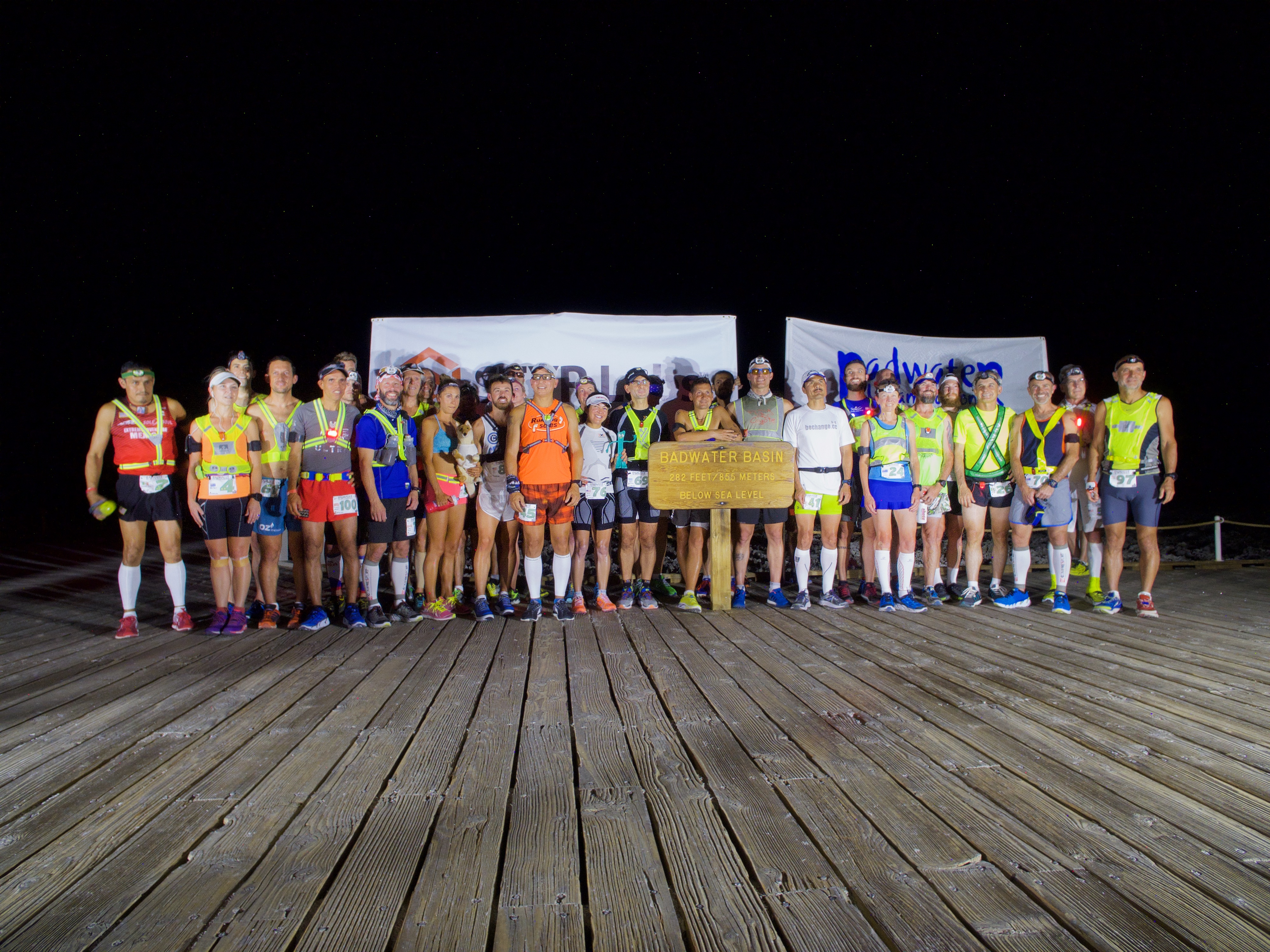 A brief count down and the runners were off.
We piled into the car and drove past the trail of bouncing lights until the odometer read 2 miles. The rules prohibited actual pacing until mile 42 at Stove Pipe Wells, so until that point, we were limited to jumping out of the car after short intervals, recognizing our runner in the darkness based on the way their head lamp and red flashers danced in response to their own unique running form, and handing off bottles of fluid and handfuls of food.
It was soon past midnight. Everyone took turns starting the contagious cycle of yawning as we tried to convince our bodies that the day was actually just beginning; doing our best to prepare for the next 24 hrs. Linda was a constant – sure and steady in the driver's seat. Alessandro was machine like – jumping out at each stop and quickly setting up his equipment to masterfully document each exchange. This was not their first rodeo.
The early leaders went out hard. Some were veterans which indicted to me that this was in fact a race, rather than simply a contest of survival. Others were newbies and I wondered how long it would be before they paid for their mistake. Mohammed settled into what he called an "easy pace". He had stated that he runs best once his muscles are warmed up so he would take it conservative through the night and turn in on as the sun began to rise. It was still nearly 100 degrees out. I wondered how much warmer it would have to get before he decided his muscles were warmed up enough to start racing. But you don't question the approach of a runner as decorated as Mohammed, so rather than encourage a change in pace, James and I simply did our best to keep him fueled, hydrated, and in good spirits, 2 miles at a time.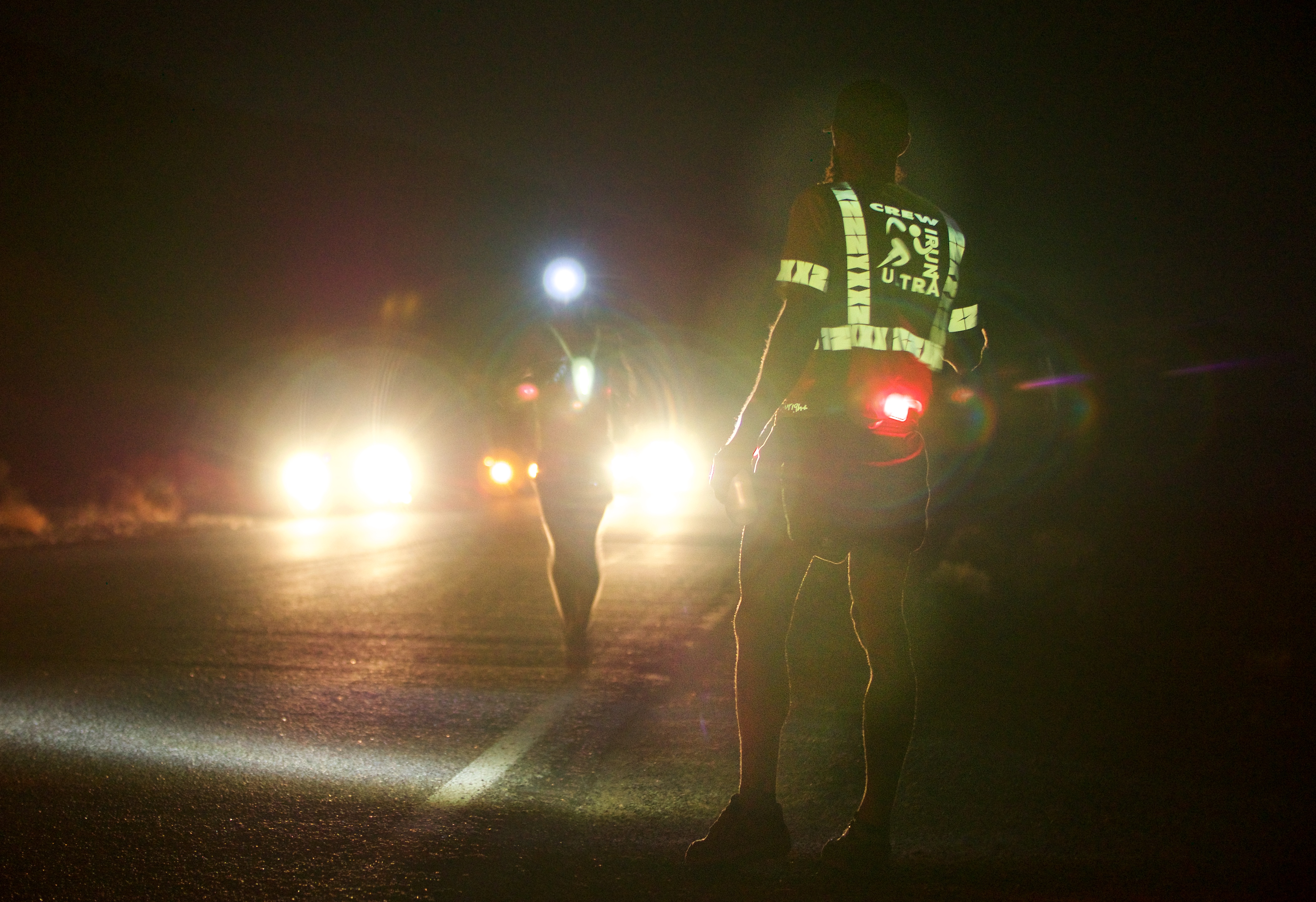 The moon began to rise forming shadows and outlines in the mountains that flanked us. "Look at that mountain." I said to James, as we stood waiting for the dance of Mohamad's light to emerge. It looks just like that big tube of cookie dough creature thing from Star Wars". The conversation quickly spiraled into the following:
"Dude you're right, it totally does." – James.
"What's it called?" – Me
"I'm not really a Star Wars guys but I think his name is Jabba the Hutt?" – James
"Job of the Hutt? What even is that?" – Me
"Maybe it's actually Job in a hut. Like maybe a hut meaning like a coffee shop" –James
"Job in a coffee shop?" – Me
"So he's a guy who just worked in a coffee shop." – James
"Like a Barista? Why didn't they just call him Barista?" – Me
"Doesn't sound as cool." – James
"It would have been a lot less confusing." – Me
"True." – James
"Anyway, that mountain looks like that barista from Star Wars." – Me
The night rolled on. The sun slowly began to rise causing a glow that began in the eastern sky and grew gradually until suddenly it was day. We approached Stove Pipe Wells at mile 42 and prepared to actually pace. I hit the restroom before what would likely be a long shift. The water in the toilet was actually steaming. The hot, humid air engulfed my face and fogged up my sunglasses. "Ugh", I cringed as my dried out skin seemed to suck in the moisture and leave my face smelling like "public restroom essence". A smell that would likely not do well if bottled and sold as a fragrance. I loaded up on fluids and food and began to run with Mohammed.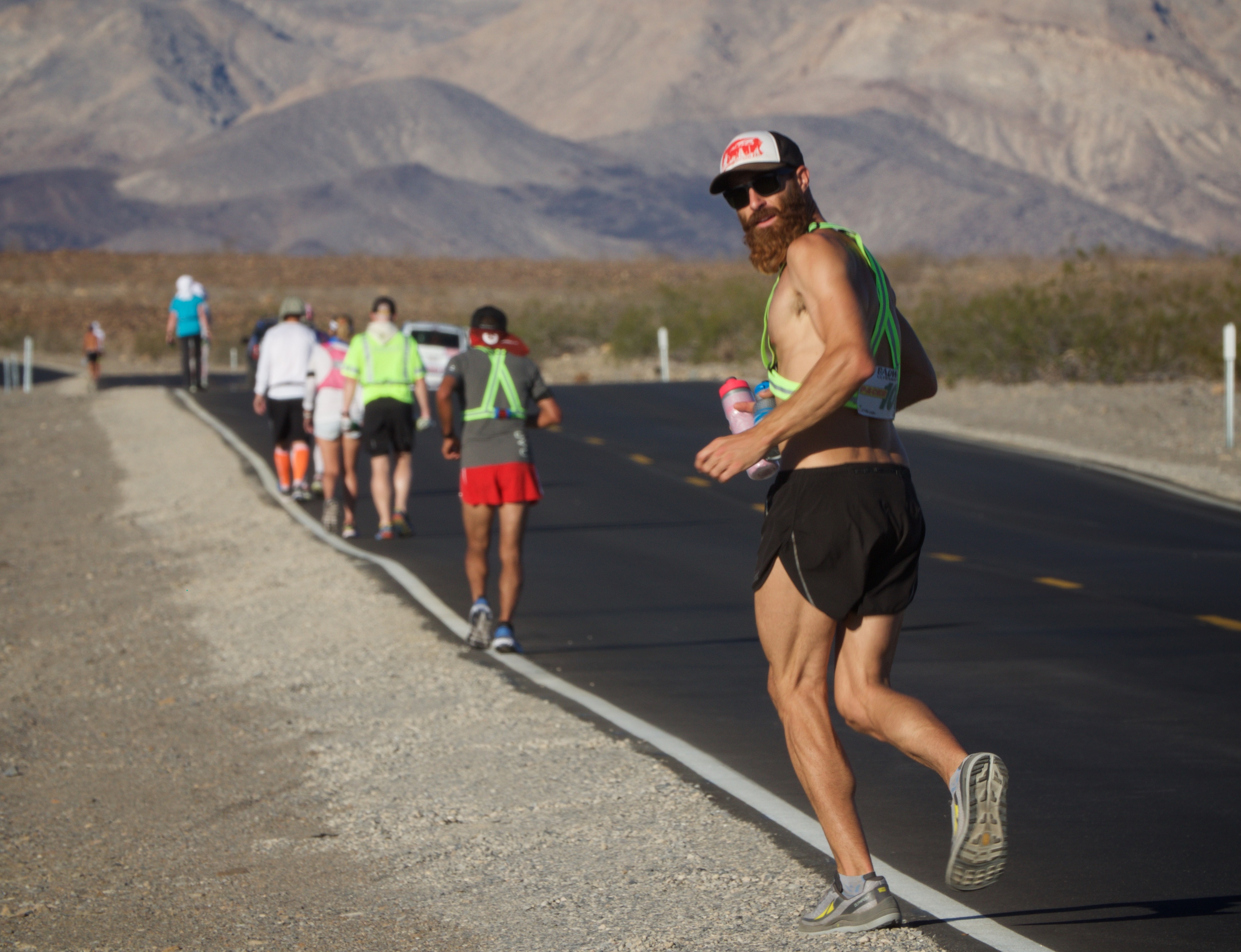 Mohammed Ahansal from Morocco, is a 5 time winner of Marathon des Sables. He spent his childhood as a nomad in the Sahara. He is well known in Morocco, having been praised by King Mohammed VI for his performances. Mohammed doesn't know his exact age, but a doctor once told him that he is probably around 42.
Last night as we drove to the start the topic of his birthday came up. He said he didn't know the actual date. "Tomorrow will be your birthday then." we decided, "And after the race, we will definitely celebrate."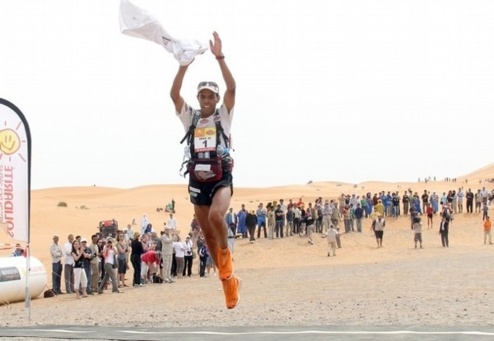 We spoke quietly as we ran, in tones that seemed to be governed by the knowledge that there was only a certain amount of energy that could be expended over the next several hours. It was that way with James last year at this time during his 50/50/50 campaign. Even glances from side to side were done slowly, and only if absolutely necessary.
The conversation as we spoke was a combination of English, French, Spanish, and even a bit of Arabic – Mohammad humoring me in my attempts to remember the few lines and phrases I had learned during my very short stint several years ago working in Palestine.
Mohammed stopped to walk a few steps, rubbing his hip and finally reaching for a hot, round, softball sized rock that lay on the side of the road. He pressed it firmly into the area where his quad and glute converged. He had begun to cramp a few miles before. "The Moroccan way." he said, a smile taking the place of a grimace.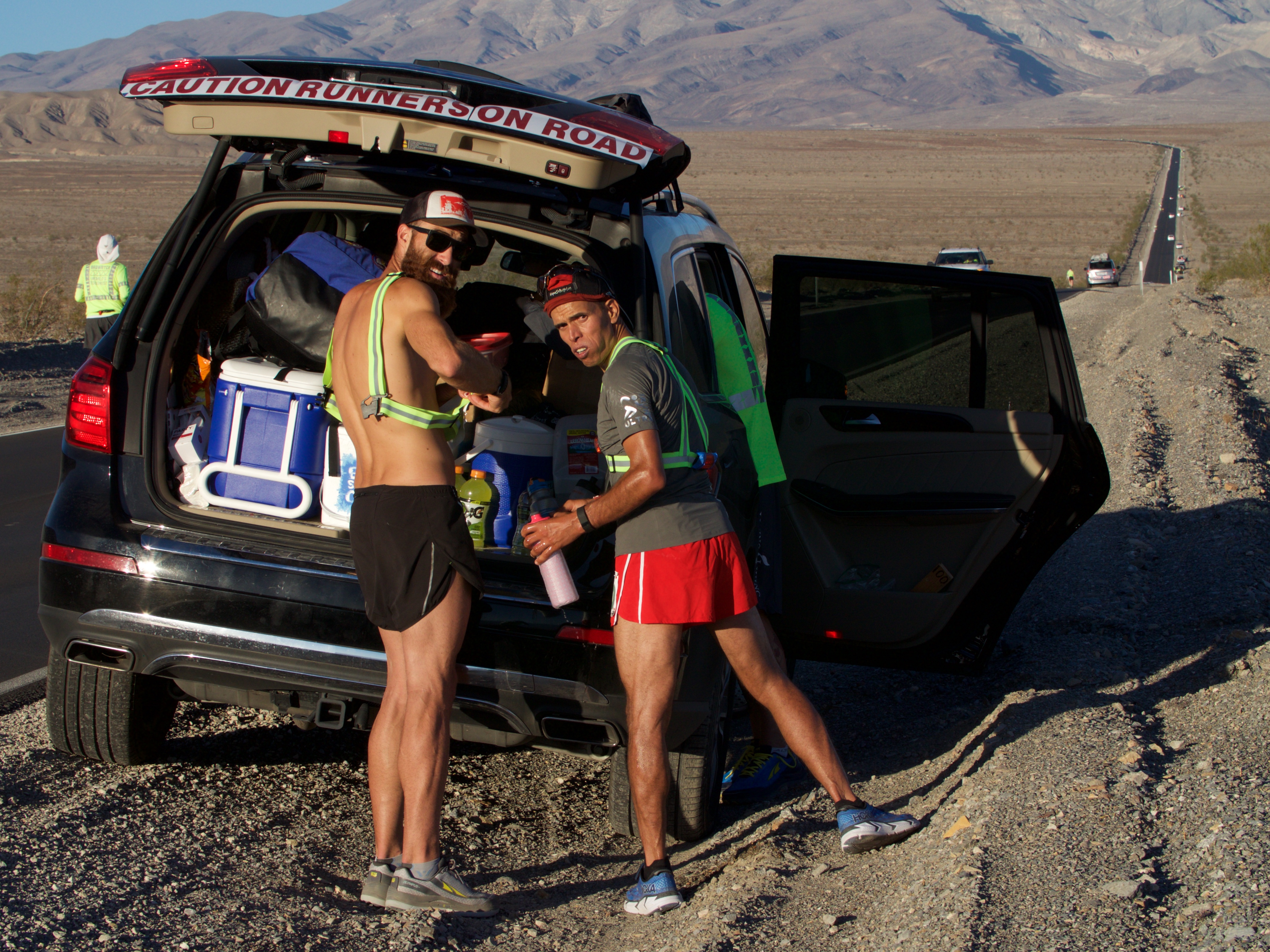 I felt for the guy. He was doing everything he could but circumstances were not ideal. He was running in a brand new pair of Hoka shoes. There is a misconception that maximalist type shoes are able to absorb some of the impact forces inherent in running. This is false. They simply transfer the impact forces further up the kinetic chain i.e., instead of using the feet, ankles, and lower legs to absorb the force (as a lower profile type of shoe would promote) the force is transferred into the quads, hips, glutes and even beyond. This is neither good nor bad, at least not in absolute terms, it is simply different. If an athlete has had issues in either of those respective areas of the kinetic chain, a change might be helpful. Then again it may not. The key is to allow the body to make positive adaptations slowly, according to its own timeline, over a gradual period. It is not a change that the human body can make during a single running session, especially not one that lasts 135 miles and traverses some of the most brutal terrain in the entire world.
The reason for the change in footwear stemmed back to Mohammed's arrival here in the U.S. Mohammed's name is… Mohammed. That makes some people in this country uncomfortable. He also recently raced in the country of Iran. In the eyes of TSA this checked two boxes: "Muslim male", and "Connections with Iran". Not a great combination considering the current political milieu in the "Land of the Free." Mohammed was detained and interrogated for 7 hours, and all of his luggage was confiscated, or "lost" requiring him to simply wing it when it came time to suit up for the race. Luckily Linda Sanders is a miracle worker and was able and willing to get him outfitted with the very best. But, it is always difficult to try new shoes or apparel on race day. Mohammed didn't complain, he simply focused on what he could control and did what he could, at this moment mashing a hot rock into his cramping hip and glutes.
We continued to run over the next 6 hours, Iron Cowboy James jumping out of the crew vehicle every two miles to hand off fresh bottles and food and Alessandro continuing to document.  Mohammed ate a combination of bananas, dates, olives, almonds, and watermelon – all familiar from his desert home, and all perfect for the needs of an endurance athlete in the heat of battle. I thought about the olives in light of the recent fuss that has been made in endurance circles about acetic acid (one of the byproducts of natural olive fermentation) being effective in decreasing muscle cramps by inhibiting the actions of the overactive nerves. It is interesting that olives have been used for millennia as a fuel source in areas of the world where people routinely make long voyages on foot, and yet it took a few university studies and a whole bunch of pickle juice for the western world to realize what others had figured out long ago. Over the next few hours, we pushed the olives and kept grinding along.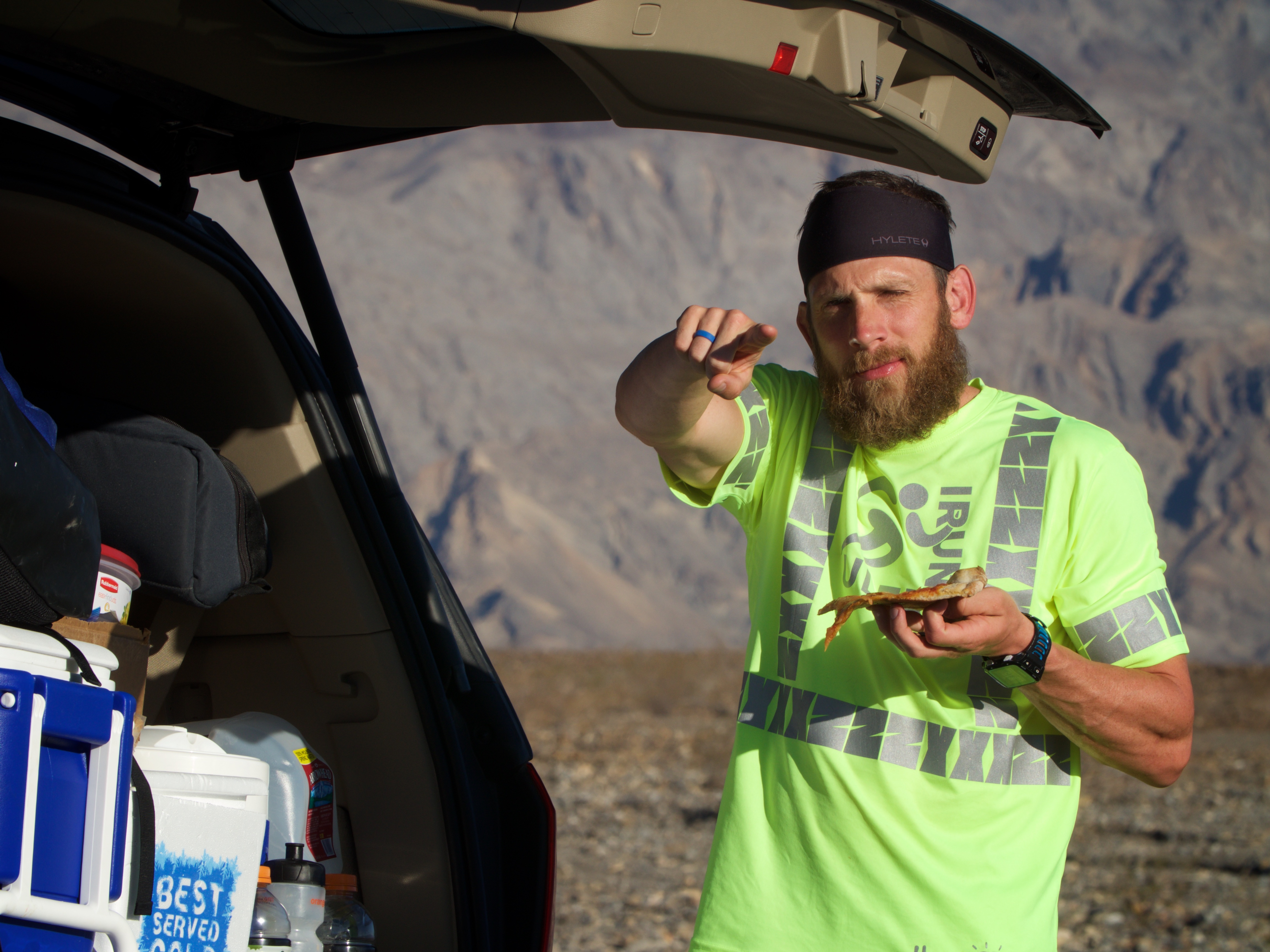 A long, black road lay before us, climbing up a mountain in the distance. "This is crazy." Mohammed said, in a thick Moroccan accent. "Why run on a perfect road when you can easily drive car?" he continued. "There in the mountains," he said, pointing to the sharp peaks that rose up to our left, "Cannot drive car, so yes, you run. But here, on this road you can drive car. So why run?" The rare outburst perfectly captured both the insanity of the current undertaking, as well as the secret to Mohammed's success at ultra distance running events all over the world. For Mohammed, raised as a Bedouin in the Sahara Desert, running was a way of life – a means of survival, livelihood, and above all else, transportation.
As the hours rolled on, the conversation flowed. We discussed politics, geography, and religion. Mohammad by his own admission, was "Not a good Muslim". When I asked what he meant, he responded, "I believe. I practice Ramadan, but sometimes I don't pray at morning, or sometimes I don't pray at night." I let that sink in and wondered that if fasting during day light hours, every day for a month, but occasionally missing a morning or evening prayer constituted being bad at one's belief system, I was definitely in bad shape, and could do a bit more to improve in my own flavor of religion. He added that to him a religion's value was based on its ability to help its followers become better people – kinder, more compassionate, more loving. Not the war torn reality we see. Those who used religion to justify war and hatred were "doing it wrong." Mohammed is a kind man. He is soft spoken. He is quick to smile, hug, give praise, and express appreciation. He sacrifices and is willing to make himself uncomfortable for the comfort of his family. In my opinion, he is doing it right.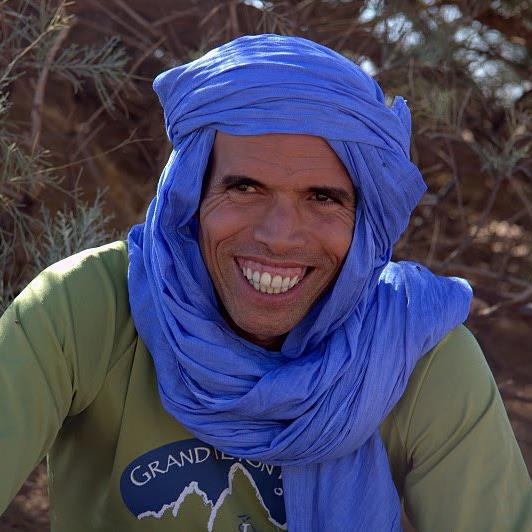 Off to the left a black raven stared as we ran by. His mouth was wide open as if stuck at the end of a "Cahw." I wondered if he had succumbed to the elements of Death Valley and as a result his jaw muscles had cramped up. I tossed him an olive as a symbol of compassion. "Acetic acid bro, it's good for you." He didn't eat it.
A jackrabbit darted from behind a withered tree and found refuge under the pseudo shade of another. Mohammed told of how, once while hunting on foot, he had caught one with his bare hands. A deep sense of envy sank in as I longed for the powerful human potential that is reached and the kinds of  seemingly super human  instincts that remain intact when one lives so closely to the land.
Another mile and a  4 inch scorpion appeared on the road. "Attention" Mohammed said, pointing it out with a nod of his head. "Careful." I translated back to myself.
At the next fueling station, Iron Cowboy James and I switched roles. He joined Mohammed, and I took on the duties of keeping them both fueled. The contrast between James and I was stark – I look like a distance runner, small, somewhat emaciated, skinny legs. James on the other hand looks like a body builder – until he moves. Then you see the efficiency of his running form and it causes a confusion in the minds of those who are well versed in the world of endurance athletics. How does that much mass move with such effortless grace? Perhaps that is the very secret to James' success.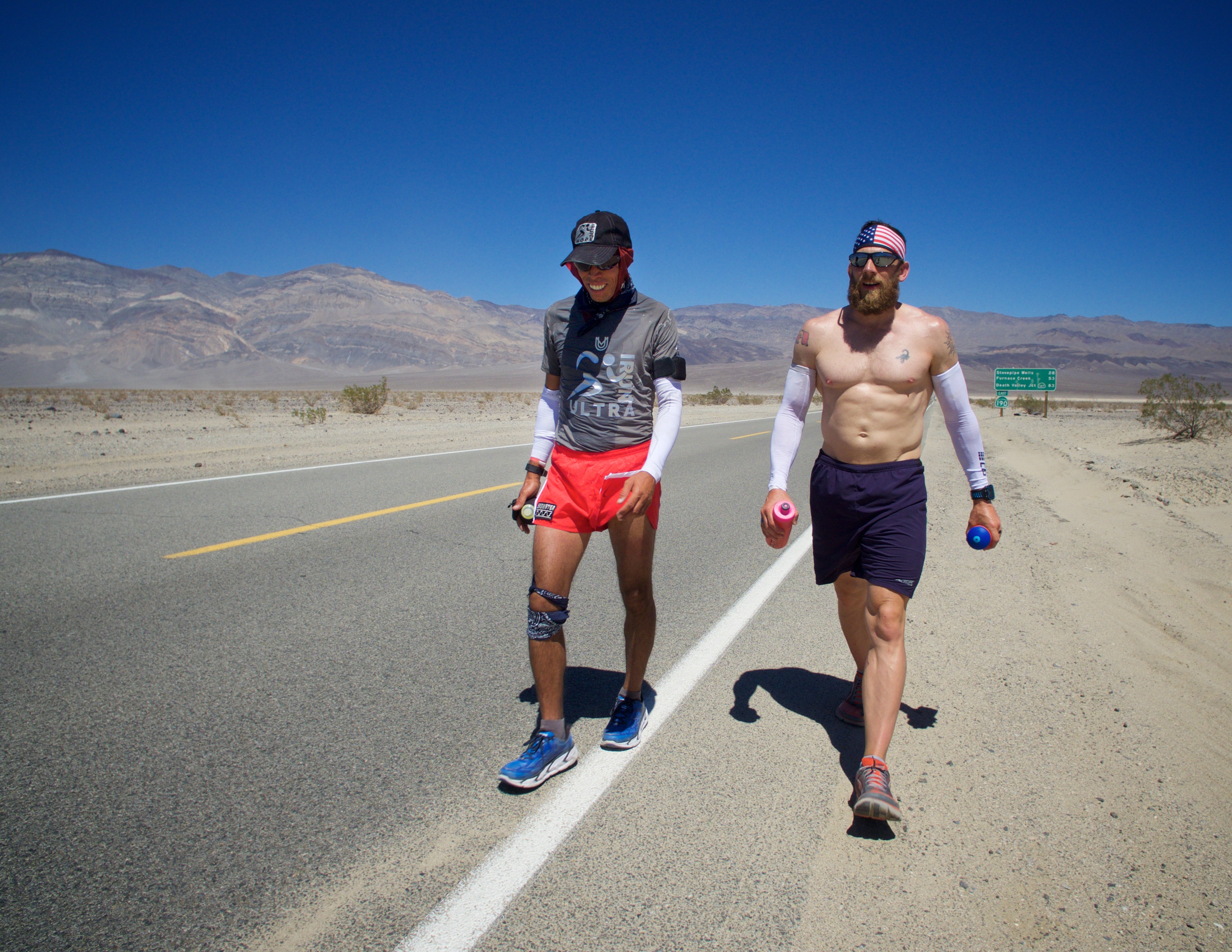 Mohammed and James ran along for the next several hours. Dust Devils whipped across the cracked desert floor sending huge sand colored plumes upward, set in contrast against the bright blue sky and the burning white sun.
Mohammed's knees began to give him trouble. He did what he could to continue but within a few miles he was reduced to a limping walk. Another mile and he was vomiting uncontrollably – dry heaving for another several minutes after he had wretched all of his fluid and nutrition onto the steaming desert floor. He was doing everything right, but given the circumstances it began to appear that the desert was going to win this one.
Mohammed struggled on, James at his side. He limped in to Panamint springs at mile 72, barely able to walk. After a thorough rundown, the medical staff, Mohammed, and the crew determined it was best to pull the plug. It was a tough decision, but the right one.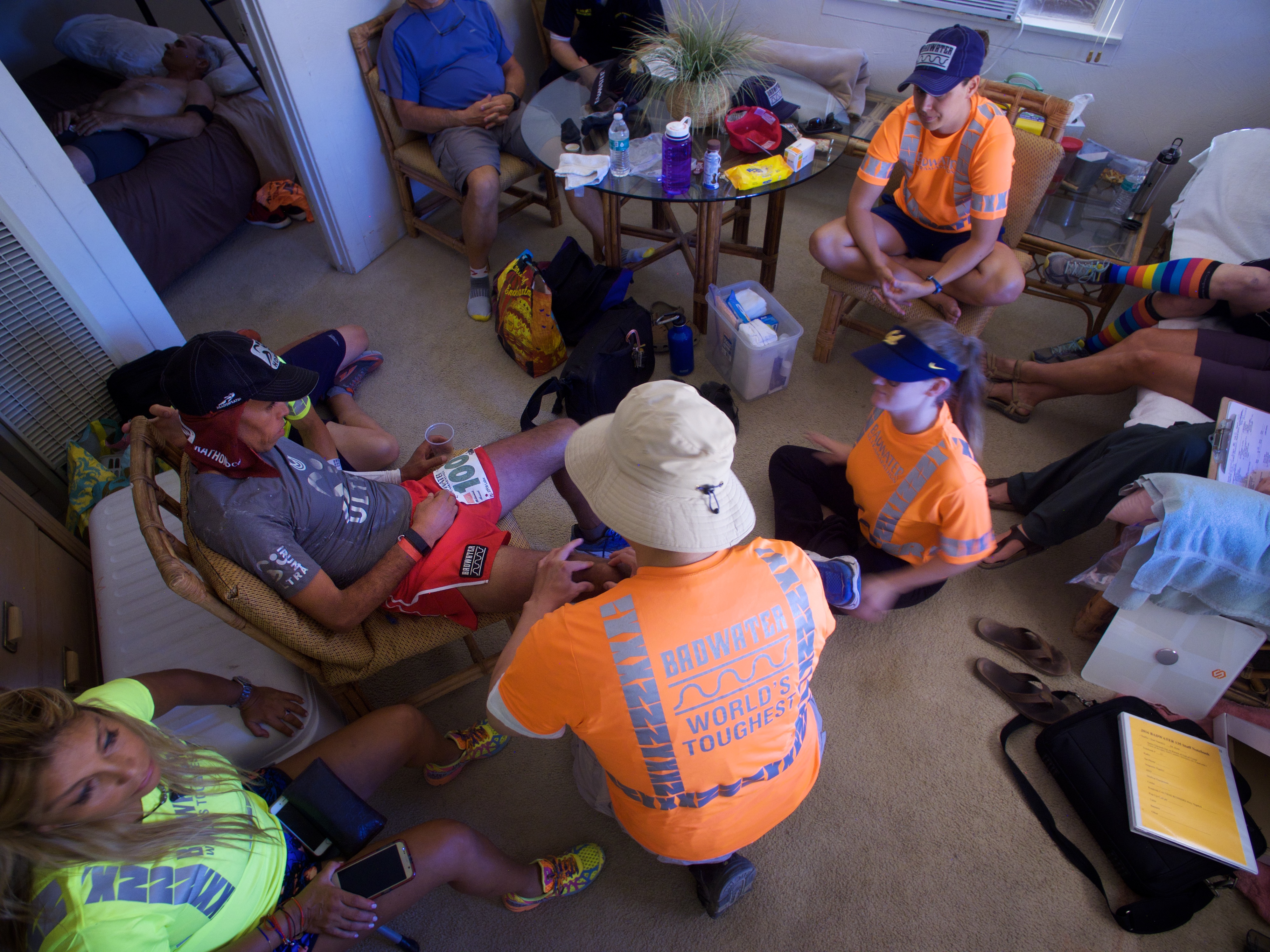 We all sat down together for lunch. Mohammed, Linda, Alessandro, James, and I. Over the previous night and day we had grown close. We all ate eagerly, while resisting urge to rest our faces in our hands and fall asleep right there at the table. It had been a long, long day. Mohammed was exhausted, and clearly disappointed as he felt that he had somehow let us down. He hadn't. He had done everything within his control. That's all that can be expected of anyone.  He sat there and silently picked the pepperoni off of his pizza, too tired and hungry to try and explain to the Russian waitress the principles of Halal. He may be back. Hopefully next time in his own shoes and with a bit more understanding of the challenges that Death Valley presents. Then again, he may not. I mean, he is right after all. It requires a certain level of insanity to run for 135 miles on a paved road that is perfectly suitable for an air-conditioned car. Maybe he'll stick to the mountains. Hopefully he'll need a couple of pacers again at some point. James and I would be more than happy to carry the snacks and try our best to keep up.
@tommy_rivs