Pennsylvania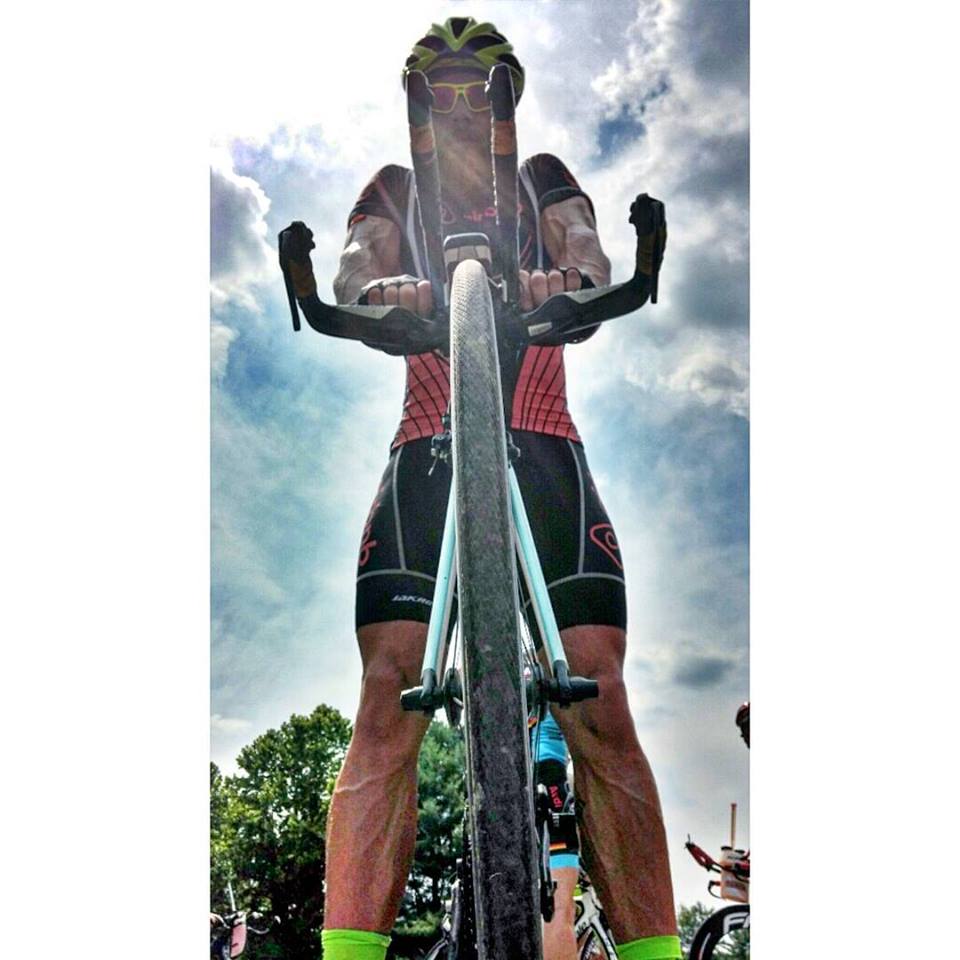 After the HITS Triathlon, some of the crew slept at the wooden house in the forest outside of Kingston NY.  It seemed like a better option than driving through the night and hoping to find a place when we got to Pennsylvania. I was happy to have a bed and a solid 5 hours of sleep, but I was traumatized when I awoke, as during those 5 hours all I saw was dancing images of bearded men in Iron Cowboy Speedos, and awful chafe wounds from leather chaps. I wonder if I will ever recover.  We woke early and drove through the misty country side. There were dark stretches of untamed forest, broken  up every few miles by picture perfect farm scenes.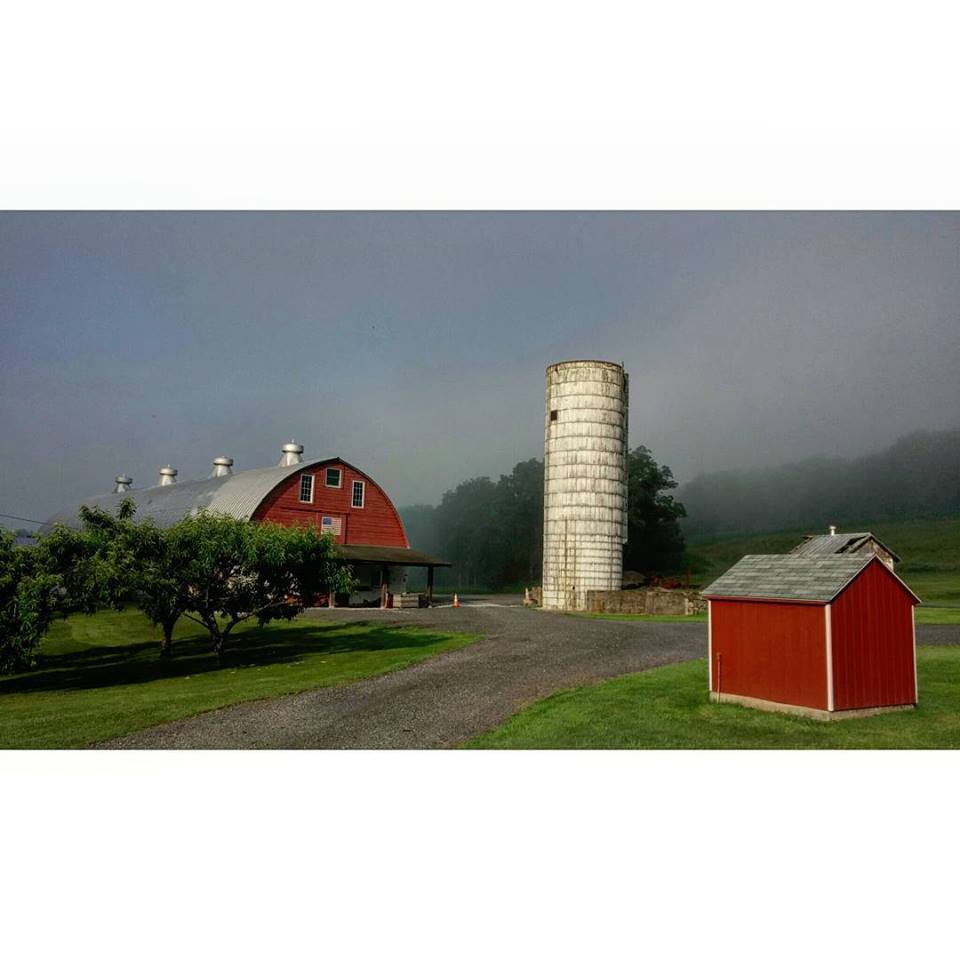 The Pennsylvania triathlon course would take place within the Delaware Water Gap National Park – oddly named considering that we were in Pennsylvania, not Delaware.  Parkins and I followed our Google Maps to the swim start, but somehow the World Wide Web lead us down a rugged dirt road that spit us out on the wrong side of the river. It was beyond frustrating – so close to the rest of the crew, and yet still worlds away. I thought back to 5th grade and the hours I spent playing Oregon Trail off of a floppy disk. I was almost as good at fording rivers as I was at shooting way more meat than my wagon train – stricken with dysentery –could possibly hope to carry.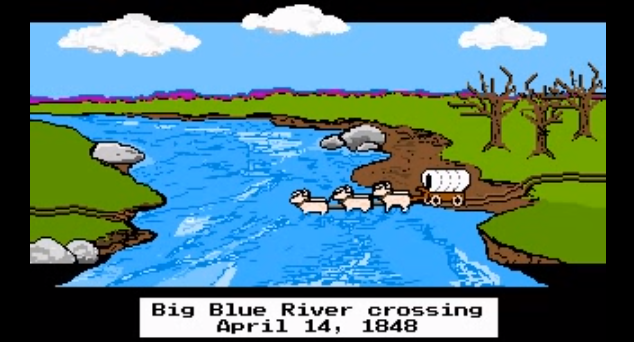 I briefly considered an attempt to ford the river in the 16 passenger van, but ultimately decided against it – you never know what kind of algae might be blooming in this river.  Better to play it safe and not die a slow painful death.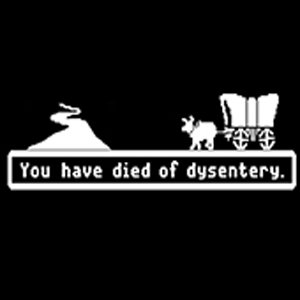 We finally made it to the right side of the river and met up with the rest of the crew. James had already partially completed the swim,  lead by a good group that worked their way upstream for several minutes, before looping around and finishing downstream at a separate exit. The misty water was glassy and lined with big green trees. I am not certain of the name of the river and I figure it best to not guess. I got in enough trouble the last time I mistakenly misidentified a body of water.
Gosh, so many perfectionists out there.
Apparently… Vermont doesn't have an ocean.  It turns out that the ocean James swam in, while in Vermont, was actually called "Lake Champlain".
Well excuse me.
See, I was raised in rural desert and have spent most of my adult life in Hawaii – the two extremes in the realm of bodies of water. There is either no ocean for thousands of miles, or nothing but ocean for thousands of miles.  Sorry if I get a bit confused when it comes to properly identifying bodies of water that fall somewhere in the middle of the spectrum. As far as I'm concerned, if you can't see across it, it's an ocean – I don't care what the salinity is, or if it has whales, or any other minuscule detail. Also…tell me this? If Lake Champlain is actually a lake, then why were there sail boats in it? I'm pretty certain it is not legal to drive a sail boat anywhere except an ocean. If that weren't the case, all of the lakes in the world would be crawling with pirates, and nobody wants that.
James exited the river, and while simultaneously eating breakfast and carrying out a phone interview with a local news outlet, he was adjusted by his Chiropractor – Dr. Dallas Makin from Utah spine and sport. Dr Makin has been out on the road for a few days with James and the crew. He does good work. He adjusted me briefly when we were in Vermont (at the ocean named Lake Champlain). I haven't had a lot of experience with Chiropractors, but in the brief 5 minute session I had with him, he worked out some musculoskeletal issues that had bothered me for a very long time. I instantly felt better and the results have continued up until now. James is incredibly grateful to have him and seems to focus his mental energy on the interim between Dr. Makin's visits from Utah -as if all he has to do is push through a short number of days before Dr. Makin returns, and James gets put back together again.

There was a great bike group that showed up to support James.  The peloton rode long out-and-backs along Route 209, still part of the Delaware Water Gap National Park.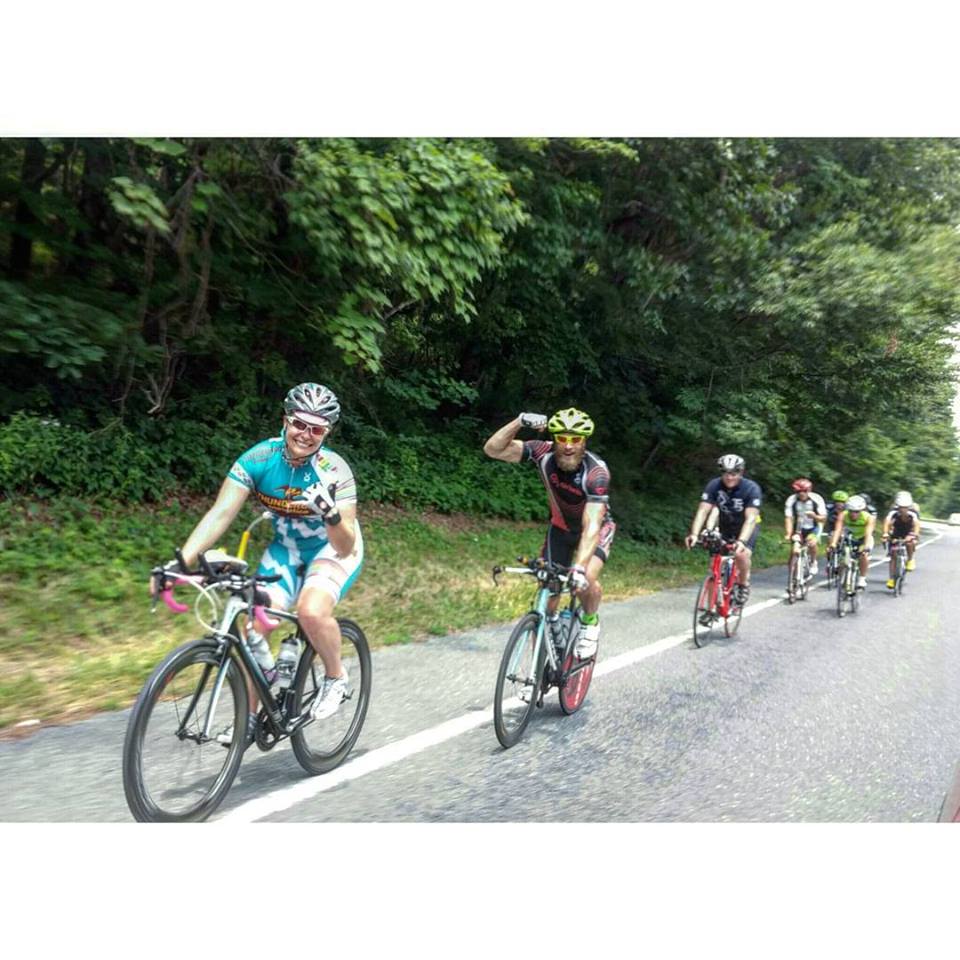 The shoulder was small and there was lots of through traffic, but the solid group helped keep James in a good mood. He even paid a small tribute to Chris McCormack by tucking down into aero position and resting his chin on his closed fist. "Send that to Macca!" He shouted as I snapped a picture. So I tweeted it to Macca and he favorited it. I knew he would. Macca loves that kind of stuff.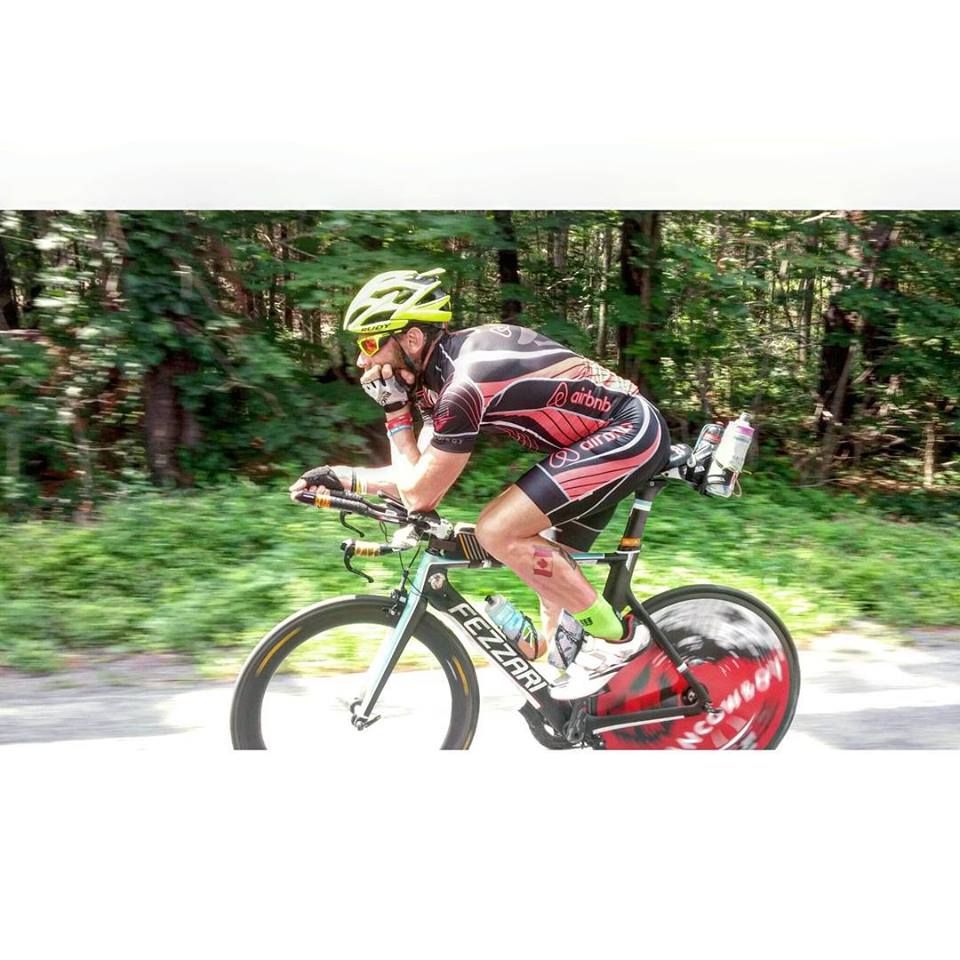 The bike group was so efficient that James was able to put in 15 miles of the Marathon before the Iron Cowboy 5k started. We ran 10 miles back and forth through the deep forest, along the cinder trail that skirted the river. The group dropped down to only a few of us as we pushed through to the trail that lead to the rendezvous for the Iron Cowboy 5k – located at a golf course 5 miles downstream.   We were told that it would be relatively flat, but what we found was anything but that – long, steep, climbs that we hiked up, followed by down-hills that we descended way too fast.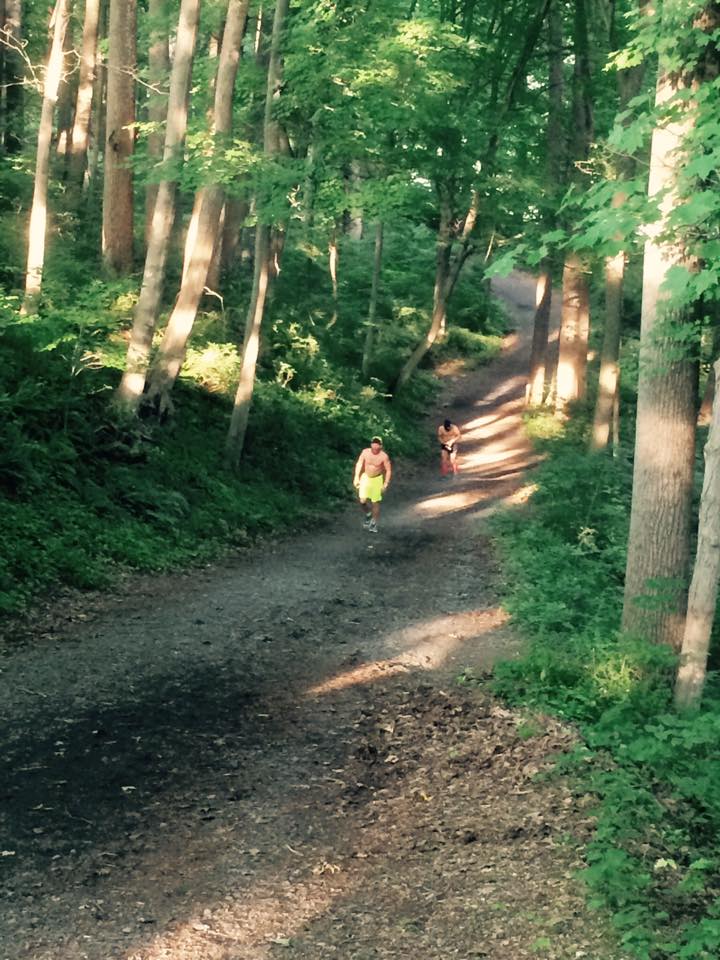 James was feeling good. He started throwing out one-liners from Nacho Libre, and it wasn't long before everything that was communicated in the group was spoken in an exaggerated Ignacio accent. It was de bess! We LOVED it.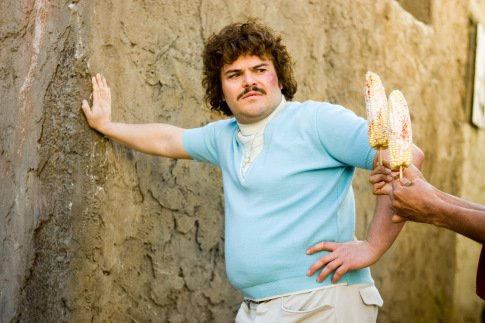 A small little toad appeared on the trail and quickly joined our group – riding comfortably as he was gently handed off from runner to runner as one of us would need to take a pit stop, or another would speed up to snap a picture.  We turned off the trail towards River Road, and covered the last few miles running along the asphalt shoulder.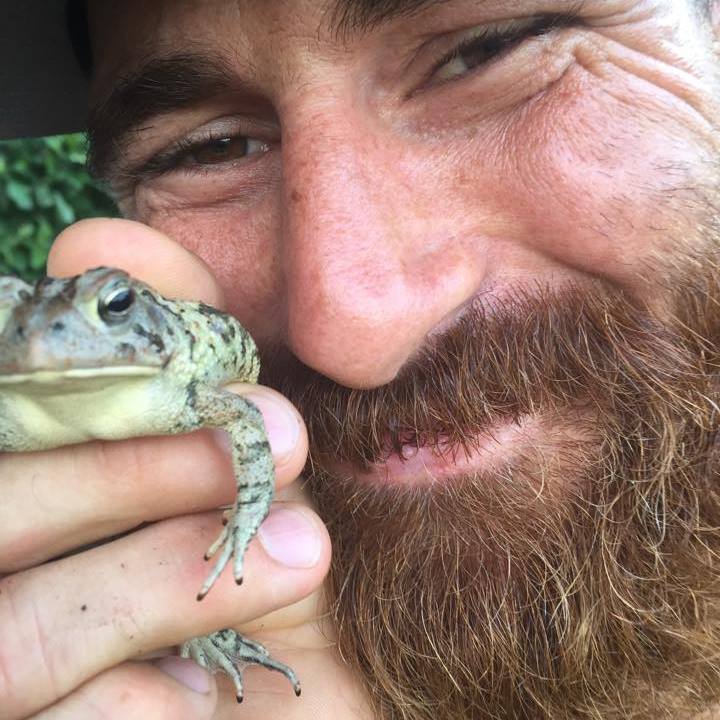 The Iron Cowboy was welcomed by the large group that had gathered for the 5k –including the "Back of the Pack" Podcast crew, who hung out all day and made balloon characters for all of the kids.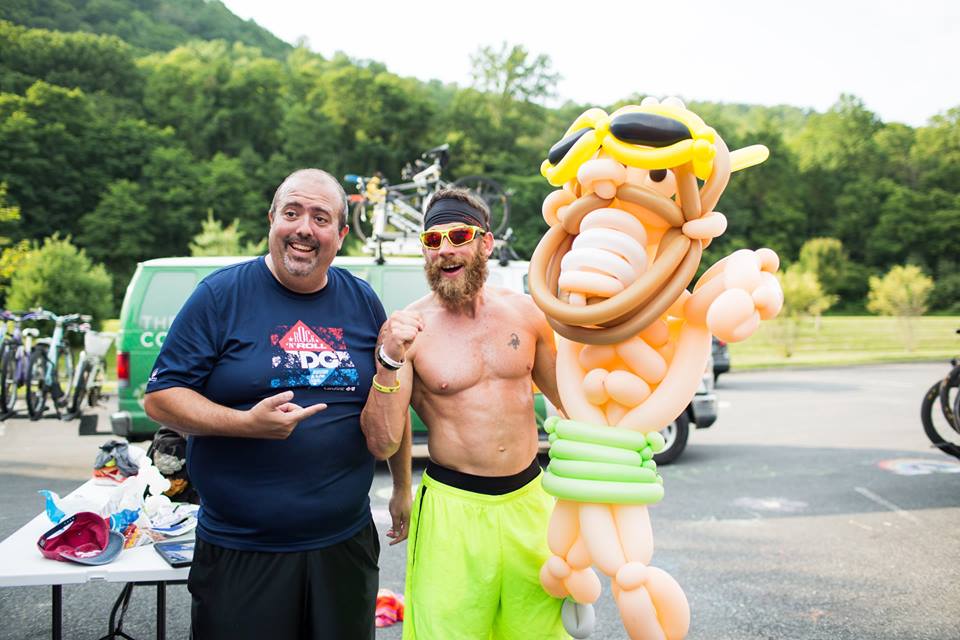 James gave another inspirational speech while I introduced the toad to little Quinn and the girls.  He served as a temporary pet before being released again into the wild.
We all hit the road just after James finished the 5k – leaving he and Sunny with the local ambassador, Randy, to catch a private charter to Ohio. They would touch down a short time later, allowing James to get a real night sleep. We drove through the night and all met up again the next morning for the swim start.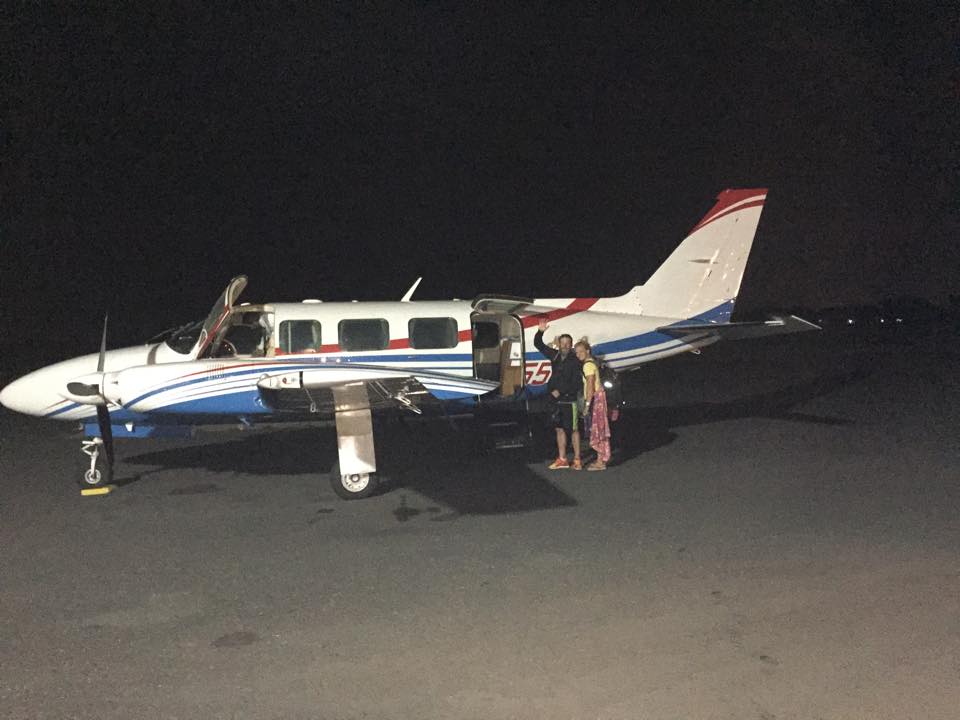 Although James was able to complete the Ironman distance triathlon without any serious setbacks, it was still a long, hard day. He has learned, as well as anyone, the secrets to enduring really difficult things. During the challenging times, James fought back hard with positivity. It's no different than what we can all do when our challenges seem too big – whether in training, or just in life. Reach out to those around you. Be willing to accept their help when you need it. Not only does it make you stronger, but it also strengthens those who are lending a hand. Be humble enough to have heroes- people who are great at something that you want to be better at. Analyze how they do what they do and then try your best to emulate it.  Enjoy the little things. Look around you and focus on the beauty – it's out there, everywhere. When you find it, take a moment to appreciate it. Give it permission to bless your life and to make it richer. Take time to laugh – the kind of deep laugh that shakes your whole body and makes your eyes well with tears. Do it in training. Do it in life. Embrace the challenges, but meet them with a smile on your face, and with gratitude in your heart.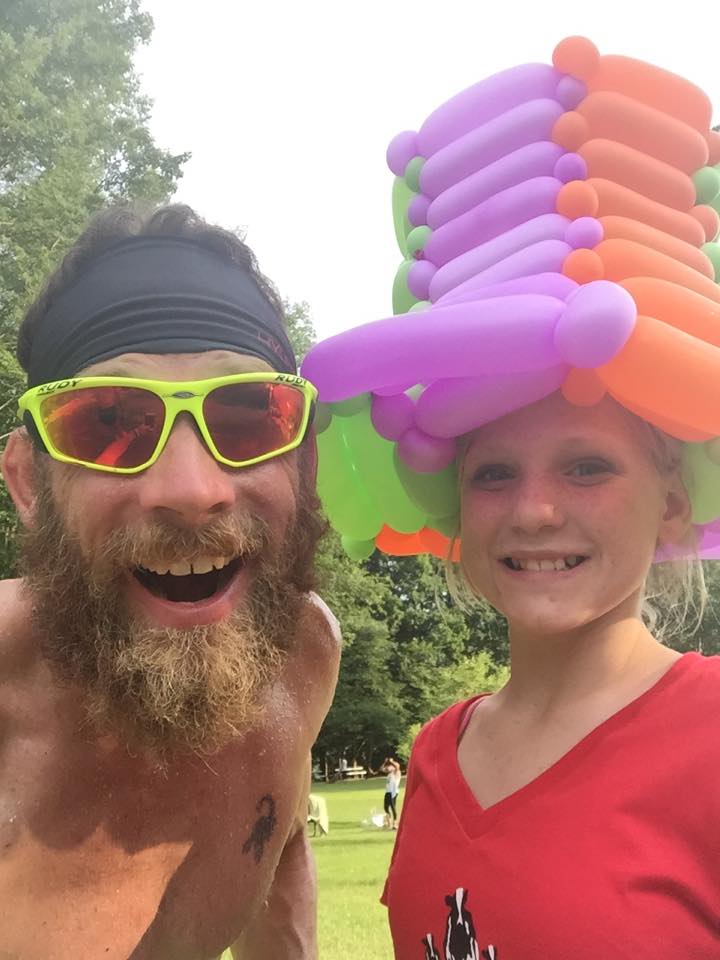 @tommy_rivs