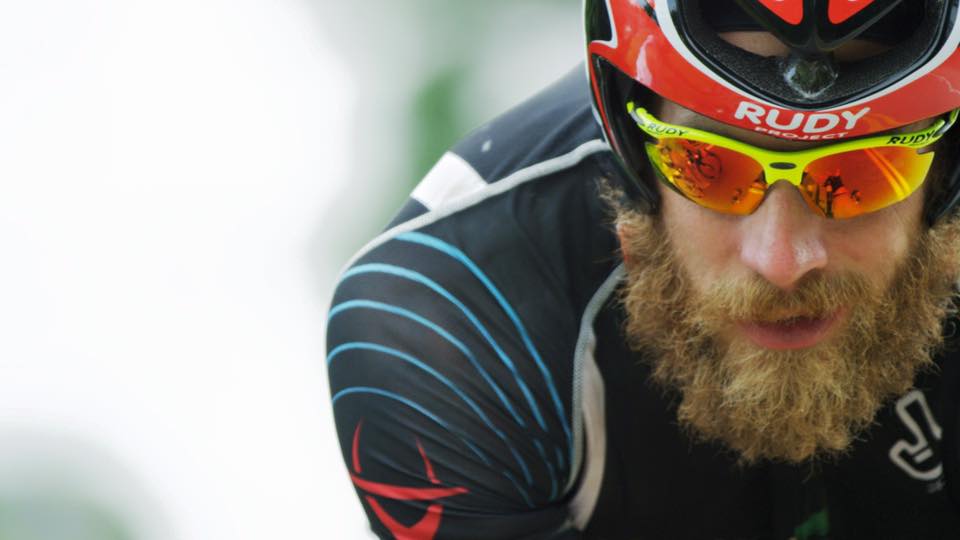 The swim this morning was a stunning course in Lake Champlain, Vermont. A large group  of local swimmers showed up to push the cowboy along- including a teenage swim team. The clear water was a comfortable 70 degrees, but James wore a wet suit anyway. The long consistent efforts day after day have all but eliminated any subcutaneous fat on his body. He resembles a body builder preparing for a contest, veins spreading like spider webs across his stomach, lats, and back. Without the insulation, James is incredibly susceptible to hypothermia. He body temperature drops, and like a cold blooded reptile, he has to rely on his surroundings to warm him back up again.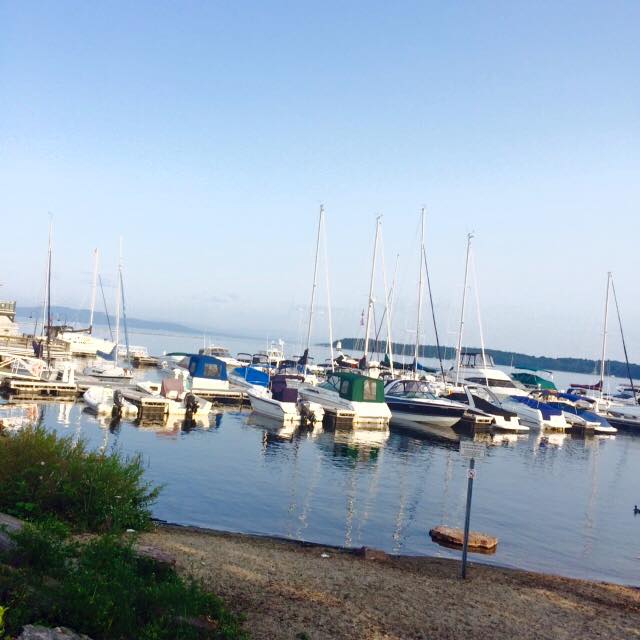 The escort group of swimmers lead James through the clear lake waters but despite being the only one to wear a wet suit, James couldn't handle the mild temperatures. The group was forced to hug the shore line in search of warmer waters. When the swim was finished, James exited the water, shivering uncontrollably. His core body temperature had dropped. Just as James feared might happen, he was hypothermic. He got into the Subaru and wingman Casey blasted the heater until James had warmed up enough to begin the bike course. He stated afterwards that this was the hardest swim yet.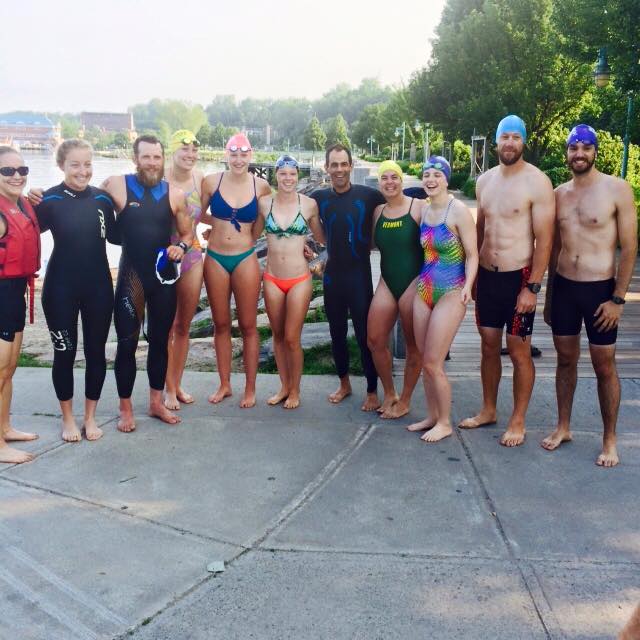 Surprisingly, this is not a uncommon occurrence among many endurance athletes. There have been many chilly days that I have headed out for an all day bike ride, and failed to bring enough extra layers. It's a risk, but the hope is that your body and the surroundings will warm up enough in the first little bit that you don't have to encumber yourself with the bulky extra gear. Sometimes though, you make the wrong choice and it doesn't warm up.  I've found myself hours from home, shivering uncontrollably, with no alternative but to ride back. It's absolutely agonizing. There have been three different times in the last year that I have cried out of physical discomfort -cried like a child. All three of these have been on cold, solo bike rides where I didn't bring enough clothing and I had suffered hypothermia as a result. The cold would first penetrate my thick gloves and booties and become unbearable in my hands and feet. It would then spread to the top of my head before seemingly entering my blood, as if every beat of my heart circulated the icy fluid and dropped by  core body temperature another degree.  I would begin to yawn uncontrollably and would have to fight the overwhelming urge to pull off of the road, lie down in the dirt and fall asleep. Instead, I've pushed along, sobbling like a child – tears and snot freezing into my beard for hours as I've pedaled towards home.
James was met by a group of Vermont riders for the bike, but only one of them was familiar with the bike course. The savvy rider led the small group through the first loop but decided to not go any further. James and his group continued but it wasn't long before they were completely lost and riding aimlessly through the beautiful Vermont country side.
James is a veteran. He know's that there is no point wasting energy on things that he has no control over. Instead of allowing the situation to affect him, he simply put his head down, brushed off the potential frustration, did his best to stay positive, and kept moving forward. The scenery made one feel like they had stepped into a generic farm scene captured in a 100 piece puzzle designed for 8-10 year olds. The roads rolled over green hills with tall trees and endless pastures. There were red barns with white trim and tall rounded silos. Large round bales of hay lay in methodical patterns along zigzagging wooden fences. Every few miles was a beautiful church with sky scraping steeples and stain glass windows. James looked at the road ahead of him and pedaled – one foot, then the other.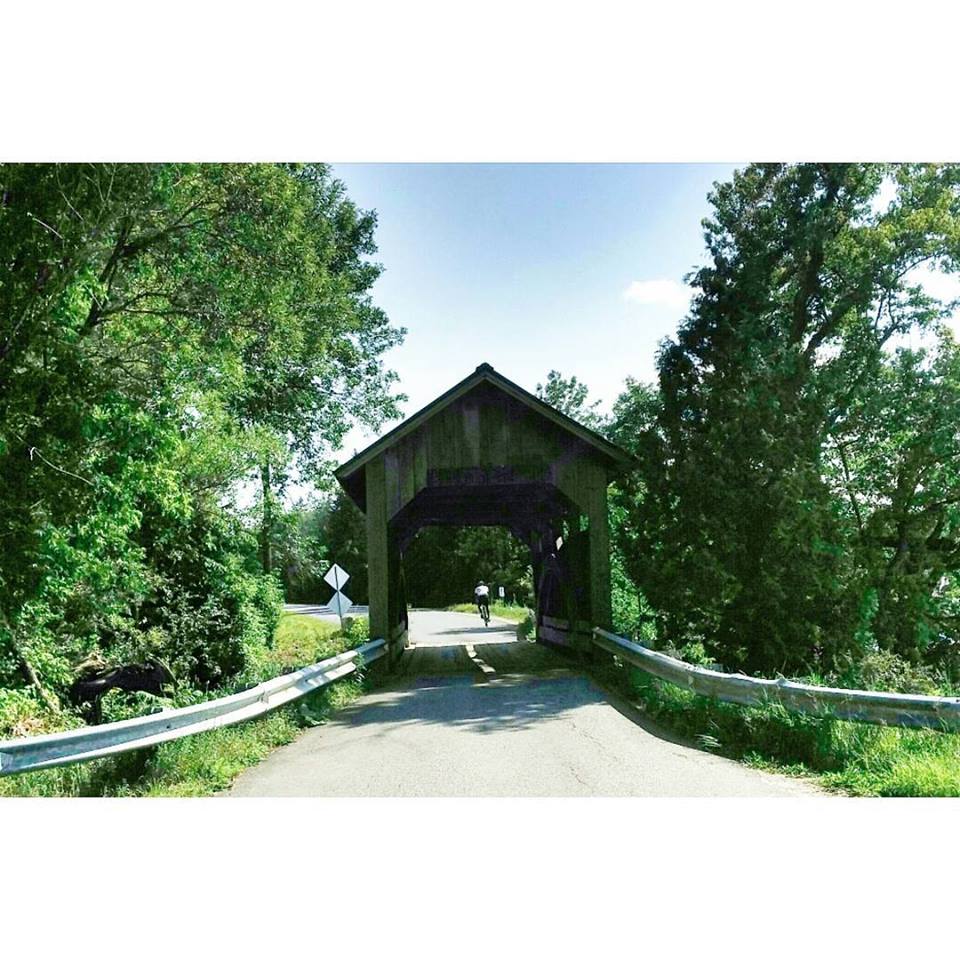 It was at this point that the logistics of the day began to get tricky and the behind the scenes began to fall apart a bit. We were all concerned about James having the fuel he needed for the day but there was no way to contact him. His phone had turned off, and because he had gone off course, it was impossible to track him down. At the same time, much of the crew was trying to sleep – doing their best to catch up from the 4 hour drive last night from Maine to Vermont (a drive that began after midnight), and prepare for the drive tonight from Maine to New York (another 4 hour drive that will begin after midnight). Sleep is absolutely necessary for the crew to remain functional and keep James going strong. The grind out here feels just like Hood to Coast, or a Ragnar Relay – except that instead of the relay lasting for a couple of days, it lasts  for weeks. The helplessness was stressful for everyone. Eventually contact was regained with James and after finishing the 112 miles, he was picked up with the motor home, 20 miles way from the projected finish location.
The marathon started from the Echo Center, on the water front of Lake Champlain in the city of Burlington. We ran along the bike path that skirts the edge of the lake with a group of about a dozen runners. Sail boats floated effortlessly across the glassy water as the sun began to sink towards the hilly horizon. Light reflected off of the lake and created colorful beams of yellow and blue. In one direction, everything was bathed in a glowing hue. In the other direction, the world was a silhouette. The Iron Cowboy 5k was to commence promptly at 7:00 pm, but as we ran, one of the accompanying runners informed the group that she had just received a Facebook notification informing that the start had been pushed back to 7:30. James didn't ask who had sent it or any other detail; he simply looked forward and said, "Ok, let's keep running then." So we did. Right before 7:30 we were met by an anxious Casey who had been trying hard to track us down, while simultaneously entertaining a huge group of anxious 5k runners – none of whom had received the notification for the 7:30 time change. As it turned out, the runner in our group seemed to be the only one who received the mystery message.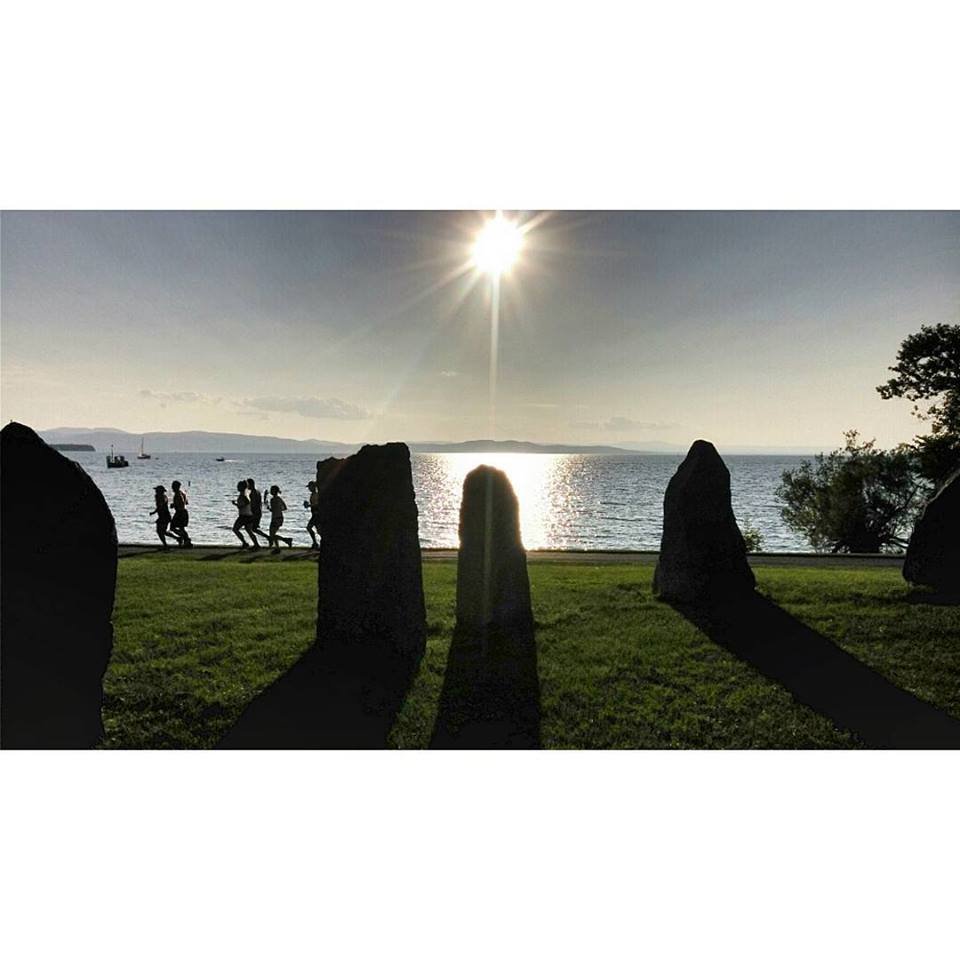 After James shared an inspirational message to the wonderful people of Vermont, the large group joined our smaller group of runners and we moved once again down the path that skirted the lake – now glowing orange as the summer sun sank lower and lower with every passing minute. James was accompanied, as usual, by his oldest daughter Lucy, as well as his social butterfly Lily. People had come in from many other surrounding states for the chance to run with the Iron Cowboy. Within the pack of runners, there was even the peculiar sound of Quebecois French. The group finished the run at the docks that surrounded the Echo center. The area was alive with people gathering to catch a glimpse of the sun setting over the water. There seemed to be nationalities from all over the world. On the corners were shops that sold soft serve ice cream, maple creamees, hot dogs, and Quebec poutine. Leather boat shoes seemed to be the common theme that tied together all of the vibrant diversity.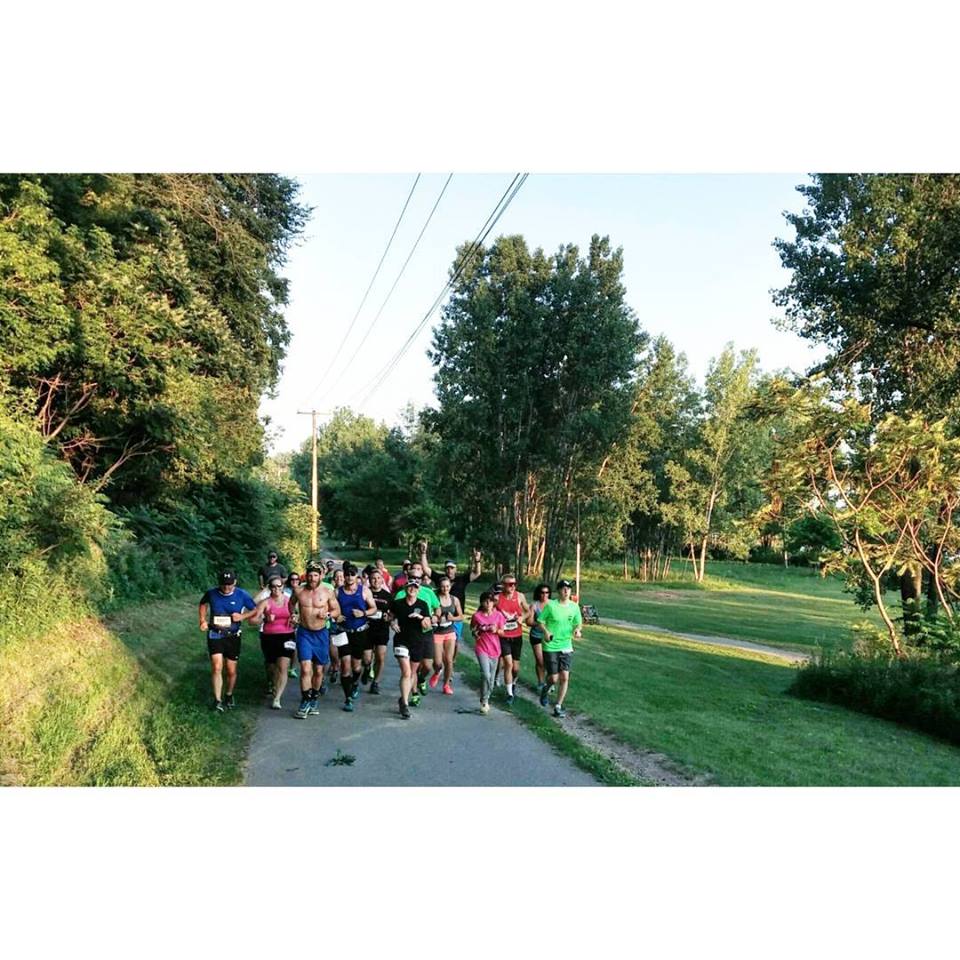 James continued to click off miles with a good sized group. I stopped for the night and tried to focus on what needed to be done before out next long stretch of highway. I was sweaty and salty. I yearned for a shower, or even just a hose, but there was nothing in sight. In an attempt to make the best of the situation I headed to the docks with fellow crew member "Parkins" and analyzed the best way to descend into the water. The docks were tall-ish making an easy exist a difficult prospect. I imagined my skinny distant-runner body, grasping the upper ledge of the wooden dock, trying desperately to pull myself back up out of the water but succeeding only in bursting a blood vessel in my eye from all of the strain. Eventually the salty itch was too much and I decided I'd risk it. I considered a dive, but quickly changed my mind to a robust jump. I decided against that too and in the end I resorted to a slow slide off of the ledge in the same way a cat grasps for the edge of a bathtub as its owner pushes it into the water.  As my feet made contact with the bottom, I looked down and realized that the water level reached just above my navel. I was instantly relieved that I hadn't attempted a swan dive – or perhaps more apropos for the region, a Canadian goose dive. I rinsed off my body and scrubbed the salt that had crystallized in my beard. I let the water run into my mouth and swished it around. It tasted the way frog pee smells. I squeamishly spit it back out.  I was ready to attempt my exit climb up the deck when a large man in boat shoes and a polo approached.
"Hey!" he shouted. "You know you probably shouldn't be swimming in there. There's a blue-green algae bloom taking place. That stuff will kill you if it get's in your mouth."
"That's unfortunate." I replied. "Does it happen to taste like frog urine?"
The man just looked back at me.
"What does one do if they hypothetically did consume a minute portion of said blue-green algae and would like to not die?" I asked.
"Well, uh…" he stammered.
"Is there any sort of anecdote I can take post-consumption to nullify it's lethal effects?" I continued, wondering what other lethal flora we would encounter before we exited New England.
The man looked back at me and retorted with a half laugh, half snort, "Yeah! Drink more beer!"
"Welp…" I thought. "I guess this is it."
James finished the Marathon around midnight with his solid escort. He had a good night. We loaded into the vehicles and pointed them towards New York where we will all compete in the Kingston, NY HITS Triathlon tomorrow.  The crew will complete the 70.3 and James will complete the 140.6 – cause that's just what he does.
James finished off the night with this message, " Number 35 – Vermont has been owned. Solid crew to the finish. With a little over 4000 feet of climbing on the bike today…I'm concerned about the NY HITS Triathlon event tomorrow with over 6500 feet of climbing. Then again, not super worried cause I'll just keep pedaling and get er done. Today was the first marathon in a few weeks where it was close to pain free…ish."
There it is. That's the secret. Things are hard for James – just like they are hard for everybody. The humanity that unites us is universal. There is nobody in this world who doesn't hurt. There is nobody who doesn't fear. We each have a burden that is custom made for our own weary shoulders. Our demons speak to each of us in their unique, persuasive voices. We all feel insecure. We are all afraid of failure. At the same time, we are all equally afraid of success. The only difference that James possesses is that he simply keeps moving forward. It doesn't matter what particular struggle is challenging you right now, the advice is the same. Keep fighting. Keep struggling. Keep pushing. Chin up. Stout heart.  Look at the challenge with a positive lens and do as James does -Every. Single. Day. "Just keep pedaling and get er done."